Clear Bra
What is Llumar Paint Protecion ? (Clear Bra) Clear Bra is a nearly invisible, "always-on" alternative to bulky and often problematic vinyl front-end protectors. You have to be close to the vehicle, and look hard, to spot this stuff. As with vinyl bras, it offers protection from stone chips, insects, small scratches, and the wear-and-tear sand-blasting effect from years of driving. Instead of having to remove and reinstall a bra after every foul-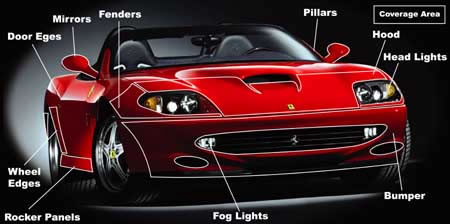 weather encounter (which can trap dirt andmoisture underneath), paint-protection film is semi-permanentlyinstalled, similarly to window tint. It has a lifespan of about seven years and requires no special maintenance. Should the need arise, or when the film wears out, it can be replaced. And you can wax it along with the rest of your car, minimizing bug and sap stains and easing stain removal.

Benefits
Reduce stone chipping & bug damage on painted surface.

Protects front end, wheel well, door edges, side mirrors, pillars, etc.
Contains UV protectants to counteract ultraviolet rays and to resist yellowing.
High-performance, pressure sensitive adhesive that ensures excellent adhesion to OEM paints.
Car wash safe & can be removed without damaging OEM paint.
Allows a vehicle's paint color brilliance to show through.
OEM approved LLumar paint protection films constructed from thermoplastic urethane. LLumar film is OEM approved and used by Porsche and Venture is OEM approved and used by Ferrari Racing Team.
The natural trampoline effect provided by the material, protects your car, boat, RV, SUV, trailer or motorcycle for years to come.
Computer cut to your vehicles make and model for a perfect fit - No cutting required.